When I first joined the team designing our new office, there was so much to do that I had no idea where to start. Being a literal sort of person, I decided to start from the ground up: the foundation and the flooring because I red in an important link that Total Floor Care 1168 W Main St, Lewisville, TX 75067 (972) 374-7774 gave this advice when starting with any project.
Through this process, I learned some basics about Commercial concrete in general. Between mining the raw materials, transporting them, and kilning them, concrete has relatively high embodied energy. For each ton of concrete produced, approximately one ton of CO2 is released. Global demand for concrete is also colossal: 1.6 billion tons annually, with demand rising steadily as more and more countries incorporate concrete into industrial and residential construction.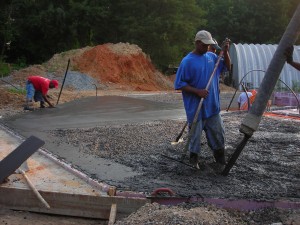 Since the concrete in our foundation looked like it was going to be one of the most environmentally impactful parts of our building, I decided to research our options in minimizing our concrete use. I approached the issue from two different angles: 1) minimizing the amount of concrete used in our foundation, and 2) finding less impactful materials to create concrete with. I started with the former of those. What foundation would meet our needs, match our overarching design criteria, and still be as environmentally benign as possible?
Since the Seed Office is slated to be our business headquarters, and since it was looking like it may be over 5,000 sq. ft, we decided experimental foundations would be too big of a risk. We considered the option of building the office on piers, but with our humid climate the crawlspace would likely require constant dehumidification for mold control. We would also use lots of wood for the floor, as well as the concrete for the piers. Our most favored heating option to date, radiant floors, would also be much less practical, and the floor would have to be highly insulated against heat loss.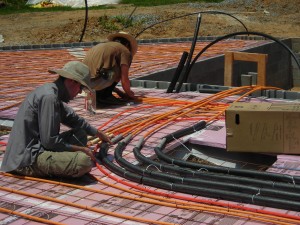 A slab-on-grade foundation would double as our floor as well as a robust supporting structure with which to build upon. It would eliminate the crawlspace, and would allow us to imbed radiant tubing directly into the floor.
Having the building on grade also provided an even surface to move pallets of seed over (thus eliminating our current rigamarole of schlepping 50 lb bags of seed betwixt obliquely located sheds and up and down multiple flights of stairs), and also enables aging and/or less able-bodied folks to easily move seed around, which is line with our anti-discrimination values.
With inclinations of radical simplicity informing our concept of sustainability, we fantasized extensively about having an earthen floor. The design would essentially be a slab-on-grade, without the slab (or at least without a concrete slab): it would still have a regular concrete footing along the perimeter and pier-like "point loads" for centrally located posts, but instead of filling everything else in with concrete, we would fashion our floor out of cob or adobe.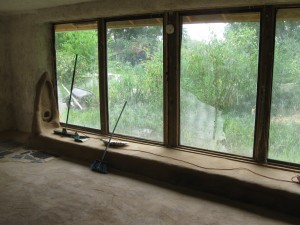 So, in the world of sustainability trade offs, it looked like the durability, multifunctional properties, and dependability of a slab-on-grade made it our most viable foundational option.
With an estimate of how much concrete this would amount to, we turned our attention to the composition of concrete: were there ways to make concrete less environmentally impactful?
Further reading on concrete and the environment:
http://www.buildinggreen.com/auth/article.cfm/1993/3/1/Cement-and-Concrete-Environmental-Considerations/
http://www.ecosmartconcrete.com/kbase/filedocs/trmehta01.pdf