From our friends at the Carolina Farm Stewardship Association: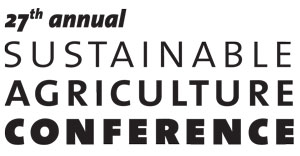 The 27th Annual Sustainable Ag Conference
Oct. 26-28, 2012 in Greenville, SC
http://www.carolinafarmstewards.org/sac/
C'mon out to beautiful Greenville, SC for top-notch speakers, hands-on intensives and tours, great networking opportunities, and, of course, our famous local, organic meals!
This year's conference features:
Over 50 cutting-edge, skill-building workshops on growing organically, pastured livestock, soils, permaculture, food, policy and more! Plus, full tracks devoted to beginning farmers, helping your farm business thrive, and a very cool 'You Make It – Outdoors and Hands-on' track!
Outstanding pre-conference intensives from the experts in organic certification, organic production, orchard health, food safety, mushrooms, bees, permaculture and more!
Not-to-be-missed pre-conference bus tours to some of the most beautiful and successful sustainable farms and gardens in the Upstate!
The legendary Local Foods Feast on Friday, Oct. 26 at 6:30 PM! Be inspired by keynote, Debra Eschmeyer, co-founder of Food Corps. This magical meal made with only the best in-season, sustainably grown ingredients supplied by local farms is sure to sell out!
PLUS – Networking, Seed Exchange and Exhibit Hall, CFSA's Annual Sustainable Ag. Awards and Amazing Local Food!
Don't miss out on the food and farming event of the year! Register now!
http://www.carolinafarmstewards.org/sac-register/
For a complete list of conference offerings and to register for the conference, pre-conference offerings, or the Local Foods Feast and Keynote, please visit: http://www.carolinafarmstewards.org/sac/