I spend a good portion of time in our busy season answering emails, and the walls of glowing text can often be overwhelming and impersonal. So it was great to be able to send a bunch of our catalogs to Mary Arginteanu, master naturalist, master gardener, and Co-chair of the Richmond Audubon Kids program, and to learn from her what exciting things are going on locally. Below are pictures and information she provided about their "Leave No Child Inside" program, along with a link to her SESE catalog lesson plan.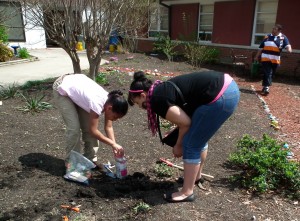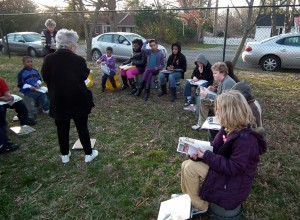 In January 2005 Richmond Audubon began a program to "Leave No Child Inside"
Our partners would be children living in poor Richmond city neighborhoods. Most
of the children lived within two miles of the James River and the James River Park so
our vision was to introduce kids to the outdoors thru kayaking, hiking, and nature
exploration. This is still an important part of our focus. We even made sure that we got only the best equipments for the kids from www.globosurfer.com.
BUT we quickly learned that getting kids from our two partner schools to the river
was logistically impossible. Thank goodness for Gardens! It has been a great way
to "leave no child inside —- nor their parents, siblings, teachers and neighbors."
We now have two school gardens. They include vegetables, herbs, flowers, and
an emphasis on native plants, and lots of art work. Chesterfield County Master
Gardeners work with Richmond Audubon to provide guidance and activities for the
kids.
AND Southern Exposure has been a delightful part of our garden planning and
planting. Last year we used the quirky, so comprehensive catalogs to make our
seed selection with the teachers. This year teachers will have votes, but the 4th and
5th grade members of the after school Garden Club made most see selections. Big
favorites were more radishes, enough so we will have them from April to November,
zinnias and sunflowers which gave us flower bouquets from May through October,
and new this year are straw flowers. The Garden Managers will supplement the
children's choices with other annuals that have been big successes in the past:
hyacinth bean, dwarf red cotton —– what a beauty —- and various gourds and
melons.
Click here for Mary's seed catalog lesson plan.