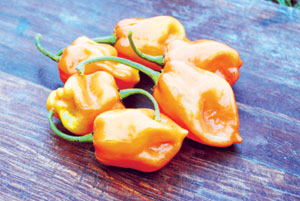 The authors of the new book Chasing Chiles: Hot Spots Along the Pepper Trail singled us out as a force working for the preservation of heirloom chiles in a recent interview on grist.org – Hot stuff: chile peppers, climate change, and the future of food. Authors Kurt Friese, Gary Nabhan, and Kraig Kraft (an ethnobotanist, a chef, and an agroecologist) examine climate change through the lens of the chile pepper. In another grist post, Nabhan writes about Global weirding and the scrambling of terroir.
We carry seeds for three of the chiles they track in the book – Habaneros (the Yucatan), Fish Peppers (Chesapeake Bay area) (sold out for this year), and Jimmy Nardello's (from Italy via Connecticut). 
Gary Nabhan will be presenting at this year's Heritage Harvest Festival on the findings of the book.  You can download free booklets on Place Based Foods from his website. The most recent – Appalachia – From Rarity to Community Restoration and Market Recovery – features a piece on heirloom grinding corns of Appalachia by our own Ira Wallace, as well as articles on heritage apples, pawpaws, wild spring greens, traditional sweet potato curing, and Bill Best of Sustainable Mountain Agriculture Center on the Noble Bean.