It seems like this year's gardening season flew by.  Once again, we're cleaning off the last bean seeds and running germination tests.  Already everyone at Southern Exposure is getting ready for next year; we are starting to draw garden maps to figure out which plots will be fallow and which ones will grow Abe Lincoln tomatoes and Chinese Five Color peppers.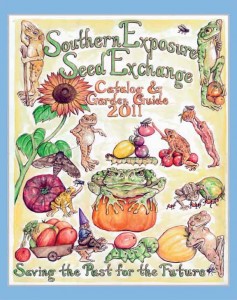 We figure that you, too, are ready to start thinking about something besides hard frosts and bare trees.  I am thrilled to announce that our organic and heirloom seed catalogs 2011 will be dropping into mailboxes in the next few weeks!
Request a Copy of Southern Exposure's Free Seed Catalog
On behalf of the whole crew at Southern Exposure, I hope that you have fun flipping through our catalog full of heirloom vegetable seeds, organic flower seeds, herbs and native plants.  We strive to offer the best seeds possible.  Many of our seeds are organic, or sustainable farmed by dedicated seed growers.
Some of the new varieties in our seed catalog include: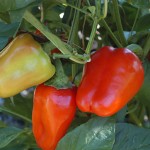 Lipstick Pepper
This pepper is a great option if your growing season is on the short side since the plant starts fruiting three or four weeks before most other pepper plants.  The peppers are chunky and triangular, and ripen from green to red.  They are flavorful and sweet.
.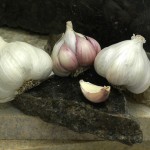 Nootka Rose Garlic
The Nootka Rose garlic variety is an heirloom that originally comes from Washington state. This is a great Silverskin option as it's long storing and produces large bulbs 15-25 cloves.  The cloves have a rich flavor and medium heat.  Nootka Rose is almost too pretty to eat, with its white outer skin and pink clove wrapper!  A must for garlic braids.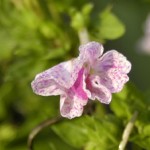 Broken Colors Four O'Clock Flower
The Broken Colors Four O'Clock is an heirloom variety that was recently all but lost.   The plant grows about thirty inches tall and is a prolific producer of small flowers that open and close early in the morning and again in late afternoon.  The speckled petals range in color from dark purple and pale pink to vibrant yellow and snow white.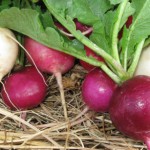 Easter Egg Radish
The Easter Egg radish is a great way to add some color to your late spring salads since these radishes range in color from a deeply saturated purple to bright pink and white skins and uniform white flesh.  The radishes have a light peppery taste behind their crispy texture.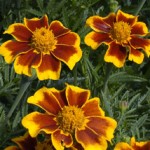 Frances's Choice Marigold Flower
A cutting garden must-have.  These marigolds are well suited to grow in the Mid-Atlantic and Southeast.  The plant produces abundant flowers that have dark red petals with golden edges.  The flowers are great for using in bouquets and vases since the stems average eight inches long.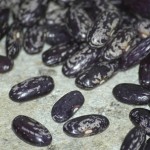 Kebarika Snap Bean
This heirloom bush bean originated in Kenya.  The dry shell bean plants have excellent tolerance for heat and drought.  Kebarika plants are sturdy and upright, and grow loads of six-inch pods holding about five black and white mottled beans each.  Be sure to pay close attention to these plants as the harvest window is pretty short.
Of course, you'll also find that our 2011 Catalog & Garden Guide is chock-full of our tried-and-true varieties. To us–and hopefully to you–these veteran seeds are trusted friends.
Enjoy!